Happy 143rd Birthday, Edvard Munch!
Your days spent in the darkest corners of the world--better known as Norway--inspired you to dish out paintings and prints of such emotional anguish and technique that you helped jump-start German Expressionism. I admit that even in Art in the Dark (better known as History of Western Art I and II), I was mildly disturbed with the gut-wrenching aftershock of emotion in your paintings and sympathized with your life. I think what struck me most about his paintings--beyond
Scream
was the sadness I felt from them and could relate to.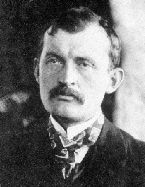 About Edvard Munch (from Norway's Ministry of Foreign Affairs)
Edvard Munch grew up in Norway's capital, Oslo, then called Christiania. His father, Christian Munch - brother of the well-known historian P.A. Munch - was a deeply religious military doctor earning a modest income. His wife, who was 20 years his junior, died of tuberculosis when Edvard was only five years old, and Edvard's older sister, Sophie, died of the disease at the age of 15. Edvard himself was often ill. A younger sister was diagnosed with mental illness at an early age. Of the five siblings only one, Andreas, ever married, only to die a few months after the wedding.
His childhood home was culturally stimulating, but in his art Munch turned again and again to the memory of illness, death and grief.
Work:
Almost everyone knows Munch's most famous painting titled
Scream
, originally called
Despair
. Here are some additional paintings worth noting.
Death in a Sickroom
Oil on canvas, 1895
(note the frailty of the women in this painting....)
From 3QuirksDaily Blog: "Edvard Munch's art was made from his troubles. When, in middle age, he retreated to the estate he had bought on the outskirts of Oslo (then still called Kristiania), love affairs, drink, a nervous breakdown and illness had already supplied the subject-matter his peculiarly subjective art required. The ideas he developed early he went on using. Late in his career he wrote: 'The second half of my life has been a battle just to keep myself upright. My path has led me along the edge of a precipice, a bottomless pit . . . From time to time I've tried to get away from the path, thrown myself into the throng of life among people. But every time I have had to go back to the path along the cliff top."
Self-portrait (with arm bone)
Litography, 1895
Melancholie (Melancholy)
Oil on canvas, 1894-95
Munch Timeline:
http://www.edvardmunch.info/edvard-munch/timeline.asp
Edvard Munch Website:
http://www.munch-edvard.de/e/index.shtml
There's also a 1974 movie made about his life:
http://www.imdb.com/title/tt0074462/